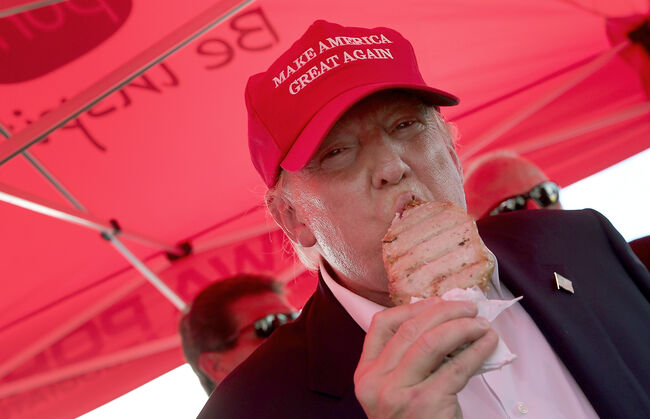 Opinion editorial by WBZ NewsRadio political analyst Jon Keller
BOSTON (WBZ NewsRadio) — A Washington Post column the other day referred to press coverage of what candidates eat at campaign stops and how they eat it as "the dumbest genre of campaign story," and there may be a corn kernel of truth there.
Also-ran Democratic candidate John Delaney was eviscerated on Twitter – a place where a glamor shot of Lassie would draw fire – for claiming he was offered a Guinness over ice in a Boston bar when he tried to order iced coffee.
Yes, Delaney should have known that the only politically appropriate place around here to grab an iced is a doughnut shop, but as gaffes go, it was heavy on the skim milk.
Still, I take issue with the Post's claim that all candidate eating stories are worthless.
Food is the common denominator of humanity, and often has great social and cultural meaning.
Any glimpse we can get behind the façade that candidates peddle is worth noting, and that includes whether or not they know that pizza and fried chicken are commonly eaten with your hands.
And the Post's insistence that John Kerry's infamous 2003 blunder, when he lost the state of Pennsylvania by ordering Swiss cheese on top of his Philly cheesesteak, was totally unfair is flat-out wrong.
Minimal research by the Kerry campaign would have revealed that Cheez Whiz or provolone were the choices that would have reassured voters he was taking the time to get to know them, instead of just pretending to.
That failure of due diligence spoke to serious flaws in Kerry's campaign in general.
There's an old saying: you are what you eat.
Hey Washington Post – chew on that one for awhile.
You can listen to Keller At Large on WBZ News Radio every weekday mornings at :55 minutes past the hour. Listen to his previous podcasts on iHeartRadio.
Listen to Jon's commentary:

Keller @ Large
Jon Keller is a WBZ TV & Radio political analyst.
Read more